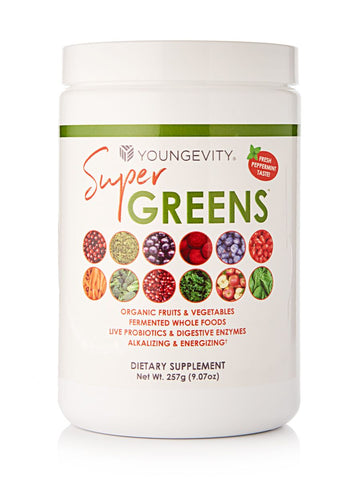 Youngevity Super Greens Canister
Super Greens is a nutrient dense powder made from the world's most potent superfoods. Organic fruits and vegetables are combined with live probiotics and enzymes to create a tasty, healthy beverage. This highly alkaline formula may help support digestion and overall pH levels. Now you can get more green, leafy vegetables and fruit with just one scoop per day.
Note: Product in canisters may settle during shipping. In addition, you may want to stir/mix contents before use.
Who it's for: Anyone seeking an simple way to incorporate more potent, organic superfoods—including fruit, green leafy vegetables, and probiotics and enzymes—in their daily diet.
What it does: Provides many essential nutrients lacking from the modern diet that support overall health, including digestion and pH levels.  
What sets this product apart? This dynamic combination of organic fruits and vegetables, with essential probiotics and enzymes helps boost hydration and energy levels. It contains nutrients that are not only essential to your daily dietary needs but highly alkaline to support healthy pH levels. 
Main Ingredients/Benefits 
| | |
| --- | --- |
| INGREDIENT  | BENEFIT  |
| Organic Flaxseed   |  A great source of nutrients including vitamins, minerals, fiber, and omega-3s, which may support cardiovascular health.   |
| Organic Fermented Fruit and Veggie Blend   | Provides organic fuel to help boost hydration and energy levels. It may also help support digestion and overall pH levels.  |
| Digestive Enzyme Blend   | An array of powerful enzymes that may help the body metabolize and absorb nutrients and support digestion.   |
| Bacillus Coagulans Probiotic  | A powerful probiotic known to withstand harsh conditions, support a healthy digestive system, and deliver immune support.  |
| Organic Greens, Vegetable and Fruit Blend  | A blend of nutrient-rich whole foods that deliver essential vitamins, minerals, and antioxidants to the body.  |
Ingredients: Superfood Botanical and Digestive Blend – Organic Flaxseed Fiber, FermPro® Organic Fermented Fruit and Veggie Blend [Apple, Blueberry, Carrot, Cranberry, Broccoli, Kale, Parsley, Spinach], Probiotics (Bacillus coagulans), Enzyme Blend [Cellulase (Trichoderma longibrachiatum), Protease (Aspergillus oryzae) Amylase (Aspergillus oryzae) Lipase (Candida rugosa), Organic Green, Vegetables and Fruit Blend - Oat Grass Juice, Alfalfa Grass Juice, Carrot, Spirulina, Blueberry, Pomegranate Juice, Gogi Berry Extract, Chloerella, Broccoli, Spinach, Kale, Acai Berry, Other Ingredients – Beet Juice, Organic Apple Cider Vinegar, Organic Flavors, Rebaudioside A (from Organic Stevia rebaudiana Leaf), FermaPro® is a registered trademark RFI, LLC. 
Suggested use: Adults, mix 1 level scoop in 8 ounces of water or juice one or more times daily. 
Warning: If you are pregnant, nursing, or taking medications, consult your healthcare professional before using this product. Keep out of the reach of children. 
---
We Also Recommend