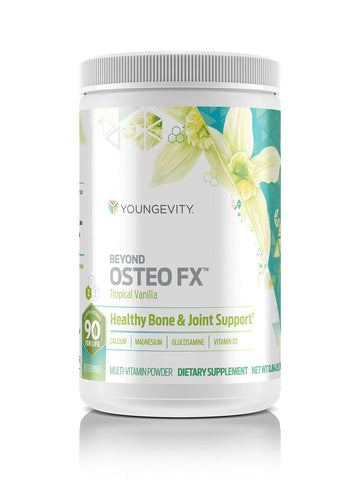 Beyond Osteo-FX Powder - 357g Canister
With bone and joint health becoming an increasing concern for many adults, Beyond Osteo-FX Powder was formulated to help support optimal bone and joint health.
Who it's for: anyone seeking nutritional support for optimal bone and joint health.   
What it does: supplies more than the daily recommended intake of calcium, along with nutrients that enhance calcium absorption by the body.   
What sets this product apart? 
Unlike similar products that contain only one ingredient, Beyond Osteo FX™ combines several nutrients that increase calcium absorption in the body. It also exceeds the daily recommended intake of calcium.  
Main Products/Benefits  
| | |
| --- | --- |
| PRODUCT  | BENEFITS  |
| Vitamin D3  | A deficiency of vitamin D3 has been linked to increased susceptibility to bone and joint inflammation and related conditions. 1  |
| Calcium  | Essential for supporting optimal bone and joint health.2  |
| Magnesium  | Necessary for the body to adequately absorb calcium, which is essential for optimal bone and joint health. 3  |
| Zinc (from zinc gluconate)   | Helps in reconstruction of bone when bone loss occurs. 4   |
| Copper  | An essential trace mineral that has been found to play an important role in bone health maintenance. 5  |
| Boron  | Thought to be a safe and effective treatment for bone and joint pain, and related conditions. 6  |
| Methylsulfonylmethane (MSM)  | Studies show it significantly reduces inflammation in the body. 7  |
| Glucosamine HCI (from vegetable)   | Demonstrates a significant anti-inflammatory impact when was applied to cells involved in bone formation.8  |
| Strontium  | Shows evidence of increasing bone density. 9  |
Instructions for Use 
Adult: Mix 1 scoop in water/juice per 100 lbs. of body weight one to two times daily. 
---
We Also Recommend