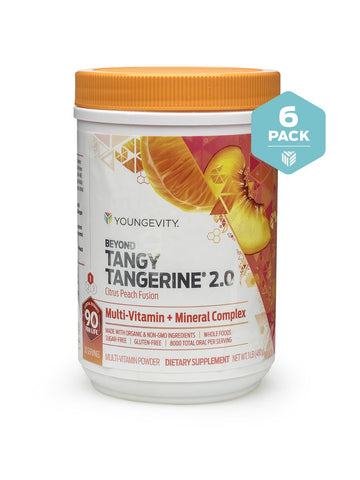 Beyond Tangy Tangerine 2.0 - Citrus Peach Fusion - 480g Canisters - 6 Pack
Beyond Tangy Tangerine 2.0 Supplement Facts

When it comes to an all around supplemental product for the nutritional needs of your family and loved one there's finally a single, ultra-premium, liquid formula that provides the vitamins, minerals and nutrients needed for optimal health.
Beyond Tangy Tangerine 2.0 Citrus Peach Fusion, with over 8000 ORAC, is the most advanced multivitamin mineral complex to date that provides you the highest quality essential nutrients that your body needs for optimal health. Synergizing co-factors ensure maximum nutrient absorption and benefits.
Beyond Tangy Tangerine 2.0 provides you with: energy boosting nutrients, PuriGenic antioxidant support, Pre-biotic and Pro-biotic blend, over 500(#)mg of natural amino acids, and increased strengths of most vitamins and minerals for optimal wellness. *
BENEFITS:
* Certified organic ingredients
* Natural antioxidant
* Great tangy tangerine taste
* supports overall health
* supports healthy immune
* Supports cardiovascular
* Supports healthy digestive system
* Gluten-free with no artificial sweeteners or preservatives
* Low glycemic index/glycemic friendly
* Promotes health blood sugar levels
* Certified organic ingredients
SUGGESTED USE: Adults, mix two scoops in water or juice per 100 pounds of body weight, 1 to 2 times daily. Children, 1/4 scoop daily per 20 pounds of body weight. Not to exceed one scoop. Serving Size: 2 scoops (16g) Servings per container: 30
WARNING: If you are pregnant, nursing or taking medications, consult your healthcare professional before using this product. Keep out of reach of children. For dietary supplement use only.
---
We Also Recommend