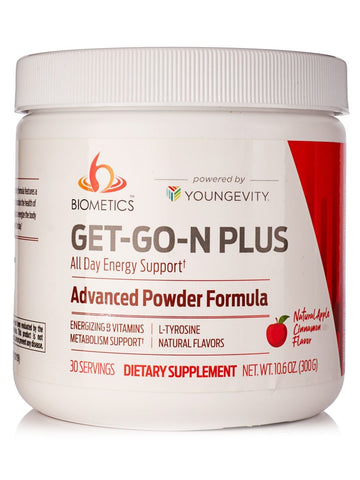 Get Go N Plus - 10.6 oz powder
Get Go N Plus Supplement Facts
All Day Energy Feel revitalized and focused all day long with GET-GO-N PLUS!
This great tasting formula features a complete B-Vitamin complex plus Tyrosine to help you combat stress, and give you the energy you need throughout your day.*
If energy is what you are after, Biometics' GET-GO-N PLUS is sure to get you through the day! This amino acid helps energize the body, creating greater mental alertness and higher energy levels. B-Vitamins are extremely difficult to obtain from our diet, since they are frequently destroyed by the processing food goes through before it reaches the stores. Yet the daily stresses in our lives mean we need to replenish our B-vitamins regularly.
For optimal effectiveness, the B-Vitamins in GET-GO-N PLUS are balanced in quantities just as they are found in nature. GET-GO-N PLUS is a great tasting apple-cinnamon flavored powder that easily dissolves in water or your favorite juice. GET-GO-N PLUS ensures that the energy boost you seek is always readily available.*
*These statements have not been evaluated by the Food and Drug Administration. This product is not intended to diagnose, treat, cure, or prevent any disease.
---
We Also Recommend