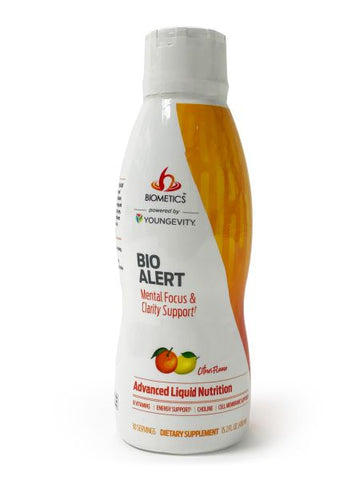 Bio Alert - 15.2 flud oz.
Bio Alert Supplement Facts
BIO ALERT - Super Focus Solution No energy? Having trouble focusing on tasks? Stay alert and focused with BIO ALERT!
Who's it for: Anyone that may need help with mental focus and energy.
What it does:
Supports mental clarity & focus
Supports healthy energy production
Delivers essential B vitamins
Supports healthy brain function
What sets this product apart?
 Delivers nutrients that support healthy mental performance
Using Biocellular Micellization®, this patented process allows fat soluble nutrients found in Bio Alert to be absorbed by the body quicker
Free of milk, soy, egg, peanuts, tree nuts, artificial flavors, starch, and yeast.
Key Ingredients/Benefits
Key Ingredient
Benefit
Thiamin



Plays many important roles in the body. Thiamine deficiency may lead to a number of conditions from mild neurological and psychiatric symptoms (confusion, reduced memory, and sleep disturbances) to severe encephalopathy, ataxia, congestive heart failure, muscle atrophy, and even death.1


 
Riboflavin

Is required by the body to metabolize carbohydrates for energy production

. 

2



Niacin



An essential B vitamin that helps with energy production and helps keep the nervous system, digestive system and skin healthy.3 


 
Vitamin B6
 

Essential for normal brain development and keeping the nervous system and immune system healthy.4 


Choline

An essential nutrient that supports many functions in the body including cellular growth

, 

metabolism

, and nervous system functioning.

5

 



---
We Also Recommend