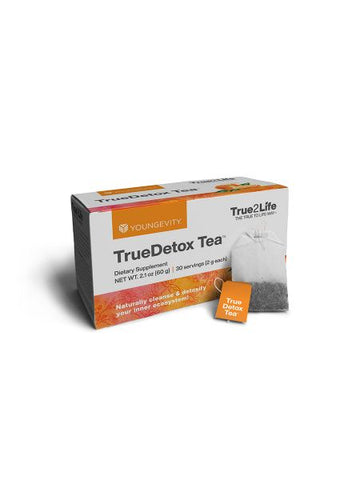 TrueDetox Tea 30ct Box
TrueDetox Tea 30ct Box
Cleanse and detoxify your body naturally with True2Life€™s TrueDetox Tea!
TrueDetox Tea Supplement Facts
True2Life€™s TrueDetox Tea contains a blend of herbs known for their cleansing and digestive benefits. This herbal blend helps support the body through a natural detox and cleanse; supporting the eliminative system while also providing digestive and immune support. The powerful blend of Senna Leaf, Cinnamon Bark, and Ginger Root cleanses and detoxifies the inner ecosystem, while soothing Orange Peel, Peppermint Leaf and Chamomile Flower provide immune and digestive support.* Box includes 30 tea bags.
Ingredients: Senna (Cassia angustifolia) Leaf, Orange (Citrus sineses) Fruit Peel, Stevia (Stevia rebaudiana) Leaf, Peppermint (Mentha piperita) Leaf, Cinnamon (Cinnamomum cassia) Bark, Ginger (Zingiber officinale) Rhizome, Chamomile (Matricaria camomilla) Flower, Natural Lemon Flavor.
---
We Also Recommend