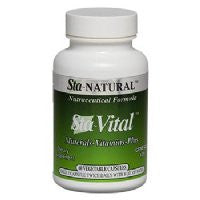 Sta-Vital, 60 Vegetable Caps
Sta-Vital, is perhaps the world's best multi-vitamin. This uniquely formulated multi-vitamin also contains a proprietary blend of fruits, herbs and enzymes.
Sta-Vital, provides micro-nutrients needed for normal growth, function and health. Minerals are the building blocks for your body. Minerals are the main components in your teeth and bones, and they serve as building blocks for other cells and enzymes. Research has shown that almost all varieties of disease can be produced by the deficiencies of vitamins, minerals, amino acids and other nutrients.
Ingredients: Vitamin A (Palmitate/Beta Carotene), Vitamin D-3 (Cholecalciferol), Vitamin E (d-Alpha Tocopheryl Succinate), Vitamin C (Ascorbic Acid), Vitamin B-1 (Thiamine HCl), Vitamin B-2 (Riboflavin), Niacinamide, Pantothenic Acid (Calcium Pantothenate), Vitamin B-6 (Pyridoxine HCl), Vitamin B-12 (Cyanocobalamin), Biotin, Folic Acid, Calcium (Tricalcium Phosphate), Phosphorous (Tricalcium Phosphate), Magnesium (Oxide), Potassium (Citrate), Ferrous (Amino Acid Chelate), Zinc (Monomethionine), Manganese (Amino Acid Chelate), Copper (Amino Acid Chelate), Iodine (Kelp), Selenium (Selenomethionine), Chromium (Polynicotinate), Choline Bitartrate, Inositol, PABA, Fruit Blend (Bilberry, Blueberry, Papaya, Red, Raspberry, Strawberry, Cranberry, Citrus Bioflavanoids Complex, Hesperdine Complex, Acerola), Enzyme Blend (Betaine HCl, Bromelain, Papain), Herbal Base (Alfalfa Herb, Quercitin Dihydrate, Cabbage, Parsley Leaves, Rice Bran, Rose Hips, Watercress Herb), Hydroxypropyl Methylcellulose, Cellulose Powder, Magensium Stearate, Silicon Dioxide.
---
We Also Recommend