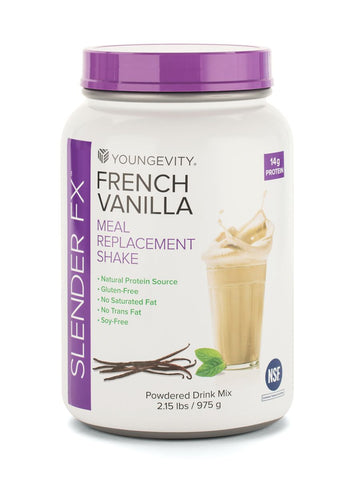 Slender Fx Meal Replacement Shake - French Vanilla
Our Slender FX Meal Replacement Shake is great-tasting gluten-free and soy-free option for individuals looking for a protein supplement! With a delicious, French vanilla flavor and 125 calories per serving, it delivers a wide spectrum of vitamins, minerals and other nutrients to help support sustained levels of physical and mental energy. Combine with the fruit and liquid of your choice for a delicious, full-flavored milkshake-style drink. For best results, use as part of the Slender FX Weight Management System that includes Slender FX, Food Fiber and Cleanse FX.
Gluten-Free
Who it's for: anyone seeking a French vanilla, gluten-free and soy-free natural protein supplement to support muscle growth and energy production.
What it does: provides all-natural ingredients for muscle recovery, weight loss support and energy support.
What Sets This Product Apart?
Provides sustained energy, through a proprietary protein blend, vitamins and minerals. This French vanilla shake is gluten-free, soy-free, and contains no trans-fat.
INGREDIENT BENEFIT
| | |
| --- | --- |
| Slender FX Custom Protein Blend  | - includes protein from whey, pea, rice sprouts, quinoa, chia and flaxseed to support muscle building, weight loss and performance.    |
| RejuvaSweet™  | Naturally-sweet branched and linear chained cellular energy concentrates have recently become the premier energy boosting nutrients in elite fitness circles providing rapid sustained energy, without spiking insulin or facilitating body fat buildup.    |
| Slender FX Metabolism Boosting Botanicals  | – blend of energizing botanicals that support the production of energy, healthy metabolism, and deliver immune supporting benefits.  |
Ingredients: Slender FX™ Custom Protein Blend (Micro-filtered whey [milk] protein concentrate, pea protein, rice sprouts protein, quinoa protein, chia protein, flax protein), microcrystalline cellulose, RejuvaSweet™ (Naturally Sweet Branched and Linear Chain Cellular Energy Concentrates [organic brown rice syrup solids, citric acid, organic rice bran], Organic Evaporated Cane Juice, Fructooligosaccharides, Stevia), di-calcium phosphate, natural flavor, sunflower lecithin, xanthan gum, potassium citrate, Vitamin B12, magnesium oxide, guar gum, psyllium, maltodextrin, spirulina, Slender FX™ Metabolism Boosting Botanical Blend (3% Standardized Rhodiola rosea, 0.8% standardized Eleutherococcus senticosus, 30% catechin-standardized Green Tea, glutamine), choline bitartrate, inositol, Vitamin C, Vitamin E (d-alpha tocopheryl acetate), apple pectin, biotin, zinc oxide, niacinamide, manganese sulfate, Vitamin A (palmitate), calcium pantothenate, lecithin, lemon bioflavonoids, ergocalciferol, papaya, pyridoxine HCl, riboflavin, thiamine HCl, ferrous fumarate, folic acid, bromelain, chromium chloride, potassium iodide, sodium molybdate and sodium selenite.
Suggested Use: Mix 1 scoop of Slender FX™ Meal Replacement Shake per one cup of water, skim milk, or juice and blend until smooth and creamy.
Warning: This product should not be taken as the sole source of nutrition and should be consumed as part of a nutritious diet. This product should be taken in conjunction with an appropriate exercise program. This product contains ingredients derived from dairy. This product does not contain nut ingredients but is manufactured in a facility that also processes products that contain nuts. If you are pregnant, nursing, or taking medications, consult your healthcare professional before using this product.
---
We Also Recommend