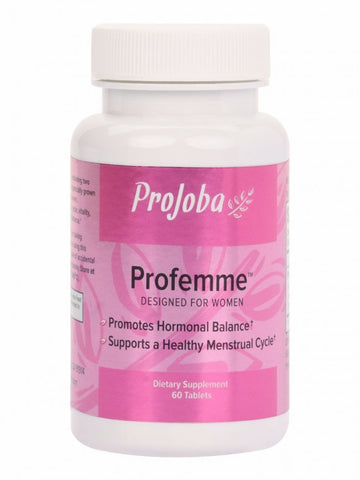 ProJoba Profemme™ - 60 tablets
Profemme is specially formulated for the needs of women helping balance a womans monthly energy cycle vitality and endurance and helps achieve a healthy hormonal balance.
Profemme is a pure, natural, standardized product containing two proven, hypoallergenic extracts derived from specific organically grown pollen grains. Formulated especially for the needs of women, Profemme helps balance a woman monthly energy cycle, vitality, and endurance, and helps achieve a healthy hormonal balance.
Recommended Usage: As a dietary supplement, take two tablets daily as needed.
WARNING:For adults only. If you are pregnant, nursing or taking medications, consult your healthcare professional before using this product. In case of accidental overdose, call a physician or poison control center immediately. Store at room temperature and avoid excess heat above 104F (40C).
KEEP OUT OF REACH OF CHILDREN.
SUPPLEMENT FACTS
Proprietary Blend: Graminex G63 Flower Pollen Extract. Other ingredients: Microcrystalline Cellulose, Maltodextrin, Silicon Dioxide, Calcium Stearate, Monocalcium, Phosphate, Hydroxypropyl Cellulose, Gum Arabic and Opadry ns.
---
We Also Recommend