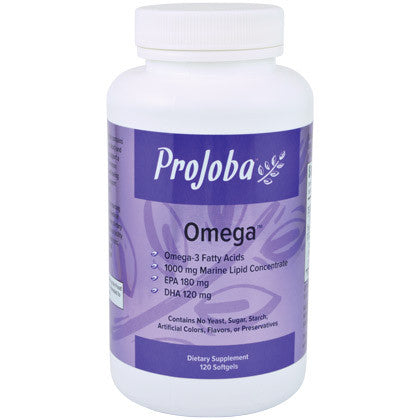 Omega™ - 120 Softgels
Projoba Omega Supplement Facts
Projoba Omega 3 is a natural marine lipid concentrate that contains the valuable Omega-3 essential fatty acids EPA and DHA to support your heart, circulatory, brain, and central nervous systems, as well as eyesight and healthy cholesterol levels.
Omega-3 fatty acids help support:
* Heart
* Circulatory system
* Brain
* Central nervous system
* Eyesight
* Healthy cholesterol levels.*
Projoba Omega contains all natural ingredients standardized for consistent high potency.
RECOMMENDED USAGE: As a dietary supplement, adults take one to two capsules, twice daily with meals or as directed by a healthcare professional. Store in a cool, dry place and away from direct light.
CAUTION: FOR ADULTS ONLY. Do not take this product if you are allergic to iodine, are using blood thinners or anticipate surgery. Consult with your physician before using this product if you are pregnant or diabetic. Keep out of the reach of children. .
---
We Also Recommend