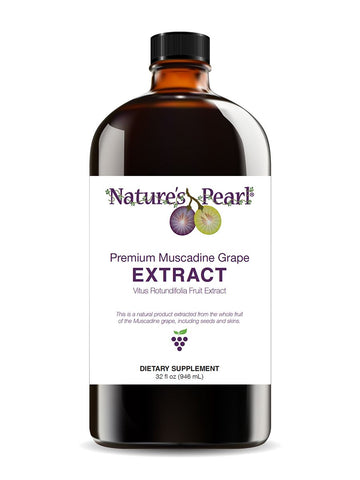 Nature's Pearl® Premium Muscadine Grape Extract
Nature's Pearl® Premium Muscadine Grape Extract Supplement Facts
This new version of an old favorite is now more concentrated than ever before! And it all starts with a hands-on approach to ensure the utmost quality. Our field-to-finish muscadine grapes are planted, cultivated, harvested, and processed on a single farm at their peak of ripeness and flavor. The results? A powerful, antioxidant-rich syrup, with no artificial ingredients, that provides a wide range of health benefits.
For best results, just add our delicious extract to your favorite drink or smoothie!
 See our grape smoothie recipe under Key Ingredients/Benefits.
Who it's for: anyone seeking a powerful, delicious source of antioxidants that can be added to drinks and smoothies.  
What it does: enhances drinks and smoothies with a high level of antioxidants, which are known to provide a number of health benefits.  
What sets this product apart? 
New and improved! 50+ BRIX reading - now 25% more concentrated! 
Field to finish approach - planted, cultivated, harvested, and processed on one single farm  
Superior glass packaging - physician preferred and better for the environment 
Extracted from the whole fruit of the muscadine grape (including seeds and skins) 
Made with over 100 naturally occurring phenolic compounds 
No artificial ingredients  
No additives 
Preservative free 
Alcohol free 
Gluten free 
Sugar free 
Key Ingredient/Benefits 
Ingredient     

Benefits 

Alcohol-free 100% Muscadine Fruit Extract 

It's phenolic content is responsible for the potent antioxidant activity. 1 
Contains anti-inflammatory properties. 2 
A good source of insoluble fiber  
Contains a high level of phenolics and flavonoids, phytochemicals that provide numerous health benefits.  
Contains quercetin, a flavonol with antioxidant properties known to help protect against free radicals. 3 
May improve collagen levels and bone strength. 4 
May support healthy blood pressure levels. 5 
May help improve blood flow. 6 
May help support the brain as it ages. 7 
Muscadine Grape Smoothie Recipe  
1/4 cup blueberries 
1/4 cup plain yogurt 
1/2 banana 
1/2 oz Premium Muscadine Grape Extract 
3/4 cup milk 
Blend and enjoy! 
1 Phenolic content and antioxidant capacity of muscadine grapes, Department of Food Science and Technology, The University of Georgia, 2003 
2 Antiinflammatory properties of the muscadine grape (Vitis rotundifolia), The University of Georgia, 2005 
3 MedicalNewsToday, 2019 
4 Grape seed proanthocyanidins extract promotes bone formation in rat's mandibular condyle, Department of Pediatric Dentistry, Kyushu Dental College, Japan, 2005 
5 The impact of grape seed extract treatment on blood pressure changes, Wolters Kluwer Health, 2019 
6 Effects of grape seed extract consumption on platelet function in postmenopausal women, National Institutes of Health, 2007 
7 A Randomized, Double-Blinded, Clinical Trial on Effects of a Vitis vinifera Extract on Cognitive Function in Healthy Older Adults, Department of Drug Sciences, University of Catania, Italy, 2017 
Suggested Use  
Adults: ½ -1 oz. daily with food or in your favorite beverage or smoothie. Note: Color may vary due to various muscadine grape colors. REFRIGERATE AFTER OPENING 
WARNING: If you are pregnant, nursing, or taking medications, consult your healthcare professional before using this product. KEEP OUT OF REACH OF CHILDREN. 
---
We Also Recommend