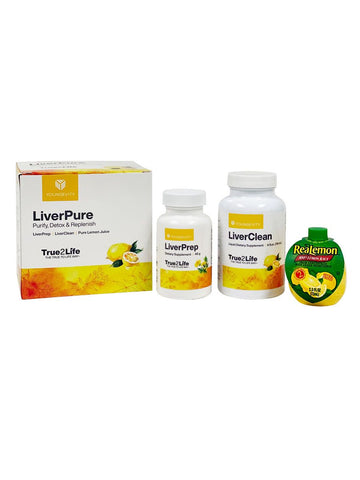 LiverPure
Your liver is the largest internal organ in your body. It helps to filter the blood coming from the digestive tract, before passing it to the rest of the body, as well as detoxifying chemicals. When your liver becomes overwhelmed, it makes it difficult to maintain optimal health.
LiverPure is a safe and effective way to support the ability of our liver - the body's chemical factory - to purify, detox, and replenish your health. The LiverPure kit includes: LiverPrep (1), LiverClean (1), Pure Lemon Juice (1), and 30 Day Detox Calendar.*
*If you are planning on following the 30 Day Detox Calendar you will need to purchase additional products: TrueZyme, TrueCleans, True Detox Tea, and Slender FX Meal Replacement Shake.
We recommend you begin your LiverPure on a Friday or a day in which you will be able to stay home the next morning. Having a peaceful, restful day is important. Begin your day by eating a light breakfast and lunch with little or no fat. This enables the bile in your liver to accumulate, creating gentle pressure on your liver. This pressure should eliminate more bio-stones from your liver.
DIRECTIONS: See Packaging for detailed instructions.
Who's it for: Anyone looking for support with a liver detox.
What it does: Helps to safely and effectively support the detoxification of your liver.
What sets this product apart?
Helps support a natural liver detox 
Supports cleansing and elimination of toxins 
Includes 30 Day Calendar 
Detailed instructions for safe liver detoxification
Main Ingredient/ Benefit
| | |
| --- | --- |
| Ingredient | Benefit |
| Vitamin E | Studies found that vitamin E may help treat NAFLD (non-alcoholic fatty liver disease)[1] |
| Magnesium sulfate | May improve liver function in certain liver disease.[2] |
| Yucca root |   |
| Artichoke leaf extract | May protect liver from damage and support tissue growth. [3] |
---
[2] Liu, M., Yang, H., & Mao, Y. (2019, October). Magnesium and liver disease. Retrieved March 25, 2021, from https://www.ncbi.nlm.nih.gov/pmc/articles/PMC6861788/
 [3] K;, K. (n.d.). Artichoke leaf extract - recent findings REFLECTING effects on lipid Metabolism, liver and gastrointestinal tracts. Retrieved March 25, 2021, from https://pubmed.ncbi.nlm.nih.gov/23195590/
LiverPrep - Vitamin C, Magnesium sulfate, Yucca root, Artichoke leaf 4:1 extract, Dandelion leaf 4:1 extract, Milk thistle seed extract.
LiverClean - Vitamin E, Safflower Oil.
Suggested Use: See Packaging for detailed instructions.
WARNING: If you are pregnant nursing or taking medications please consult your healthcare professional before using this product.
---
We Also Recommend