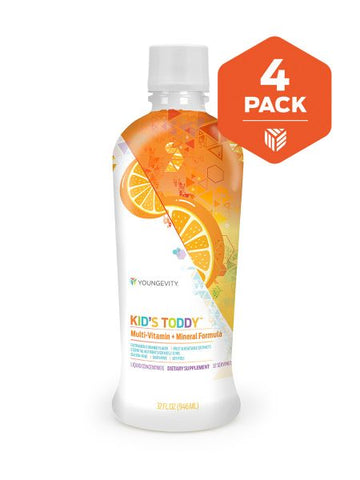 Kid's Toddy - 32 Fl Oz (4 Bottles)
Kid's Toddy Supplement Facts
Provide your growing child with full-spectrum nutrition with this advanced multivitamin formula. 4 Pack.
Kid's Toddy provides your growing child with a full spectrum of nutrients, including vitamins, minerals, amino acids and phytonutrients. It is specifically formulated for children ages 2 to 12 and provides the essential nutrients to support their development. It contains NO yeast, dairy, wheat, soy, gluten, starch, or artificial flavors. It also comes in an Outrageous Orange flavor that kids love!
Ingredients:
Vitamin A, Vitamin C, Vitamin D3, Vitamin E, Thiamin, Riboflavin, Niacin, Vitamin B6, Folate, Vitamin B12, Biotin, Pantothenic Acid, Choline, Calcium, Iron, Iodine, Magnesium, Zinc, Selenium, Copper, Manganese, Chromium, Potassium, Inositol, Grape Seed Extract, Proprietary Blend of Phytonutrients (tomato powder, broccoli powder, banana powder, carrot powder, blueberry powder, cherry powder, spinach powder, peach powder), purified water, natural vegetable glycerin, citric acid, Citrisweet, xanthan gum, natural flavors, masking agents, sodium benzoate (to preserve freshness), and potassium sorbate.
---
We Also Recommend