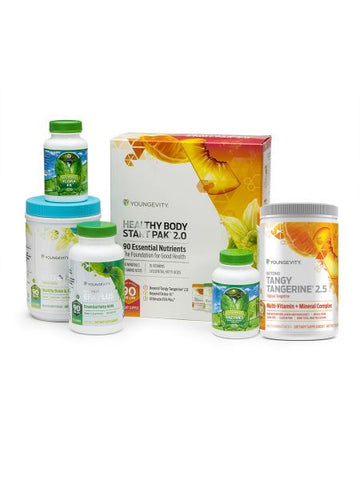 Healthy Body Digestion Pak™ 2.5
In today's world, depleted soil, crop changes, and seasonal inconsistencies are yielding less nutrient-dense food. This is why Healthy Body Paks were created. With 90 essential nutrients at their core - 60 minerals, 16 vitamins, 12 amino acids, and a powerful blend of EFAs - they are specifically formulated to provide the nutrition you can no longer get from food alone. And with this Pak, you get the added benefits of Ultimate Enzymes and Ultimate Flora Fx, both of which help support a healthy digestive system for an overall healthy gut.
Each ingredient in this Pak represents Dr. Wallach's pioneering research and life's work, which is committed to helping people live younger, longer lives through essential nutrition.
This Pak Includes:
Beyond Tangy Tangerine® 2.5 Tropical Tangerine 1 canister (480 g)
Ultimate EFA Plus 1 container (90 softgels)
Beyond Osteo-fx powder 1 canister (357g)
Ultimate Enzymes® 1 container (120 capsules)
Ultimate Flora Fx 1 container (60 capsules)
See individual product pages for more details.
Who it's for: anyone seeking proper nutrition in their daily diet, and support for healthy digestion.
What it does: provides broad-spectrum, foundational nutrition (90 essential nutrients) you can't get from food sources alone - and products specifically formulated to support healthy digestion.
What Sets This Product Apart?
Backed by science: each product represents Dr. Wallach's pioneering research and life's work, which is committed to helping people live younger, longer lives through essential nutrition. 
Designed for your life: our comprehensive product line empowers you to create your own targeted, custom program. 
Absorbable: unlike so many products on the market today, we use an exclusive, plant-derived mineral complex from one of the richest resources in the world, which helps your body actually absorb and use nutrients to improve your health. 
Potency: we blend the optimal amounts of vitamins and nutrients, so you can look and feel your best. 
Purity: from essential vitamins to organic whole foods and plant-based nutrition, each ingredient is tested to adhere to our high standards for purity before we manufacture. 
Synergizing blend combines nutrients that work optimally together.
Main Products/Benefits:
| | |
| --- | --- |
| PRODUCT | BENEFITS |
| | The most advanced multi-vitamin mineral complex to date, which provides the highest quality essential nutrients for optimal health. Synergizing cofactors ensure maximum nutrient absorption and benefits. |
| | A proprietary blend of essential fatty acids (EFAs) from Borage, Flax and Fish Oils. Used as part of a healthy diet, EFAs may support cardiovascular health. 1 |
| | Formulated to support optimal bone and joint health, with nutrients like Vitamin D3, calcium, and magnesium, easily absorbed and consumed in a powder form. 2,3,4 |
| | Featuring Betaine HCl, which increases the level of hydrochloric acid in the stomach necessary for proper digestion and assimilation of nutrients from food. 5 |
| | This proprietary blend of pre- and probiotics is formulated to support healthy digestive function, and optimal nutrient absorption and metabolism. |
Ingredients:
Beyond Tangy Tangerine® 2.5: Vitamin A, Vitamin C, Vitamin D, Vitamin E, Thiamin, Riboflavin, Niacin, Vitamin B-6, Folate, Vitamin B-12, Biotin, Pantothenic Acid, Calcium, Iron, Magnesium, Zinc, Selenium , Copper, Chromium, Sodium, Potassium, Whole Foods Blend, Plant Derived Mineral Complex, Glucosamine HCI, MSM, Chondroitin Sulfate, Inositol, Vitamin K2, PuriGenic™ Multifaceted Free Radical Defense System (Proprietary Blend: Organic Amla bioflavonoids, selenium (as selenomethionine), grape seed extract), Beet Root Extract, PrePro™ Prebiotic and Probiotic, Co-enzyme Q10, Boron, Organic Tapioca Maltodextrin, Citric Acid, Natural Flavors, RebaudiosideA, Beet Root (color), Calcium Citrate and Calcium Guconate, Acacia Gum.
Beyond Osteo FX™: Vitamin D3, Calcium, Phosphorus, Magnesium, Zinc, Copper, MSM, Glucosamine HCl, Boron, Strontium, Plant derived mineral complex, inulin, fructose, citrus peel extract, citric acid, natural flavors, natural coconut flavor, Rebaudioside A, natural color, sunflower essential fatty acids, guar gum.
Ultimate EFA Plus: Alpha Linolenic Acid, Omega, Linolenic Acid, Oleic Acid, Gamma Linolenic Acid, Eicosapentaenoic Acid, Docosahexaenoic Acid, Fish Oil (Anchovy, Sardines, or Pollock), Organic Flax Seed Oil, Gelatin, Glycerin, Borage Seed Oil, Purified Water, Sunflower Oil, Mixed Tocopherols.
Ultimate Enzymes: Betaine HCI, Pancreatin 10X, Papain 6M, Pepsin 1:3000, Bromelain, Ox Bile, Rice Flour, Gelatin Capsule, Magnesium Stearate.
Ultimate Flora FX: GDL, Probiotic Blend, Lactobacillus Acidophilus, Bifidobacterium Bifidum, Bifidobacterium Infantis, Vegetable Capsule, vegetable Stearate.
Suggested Use: Adults mix 2 scoops of BTT 2.5 in water or juice per 100lbs of body weight 1 to 2 time daily. Adult: Mix 1 scoop of Beyond Osteo FX in water/juice per 100 lbs. of body weight one to two times daily. Take Ultimate EFA Plus soft gel three times a day or as directed by your healthcare professional. Take Slender FX REV 15 minutes before meals. Take 1 Ultimate EFA soft-gel three times a day or as directed by your health professional.
WARNING: If you are pregnant, nursing or taking medications, consult your healthcare professional before using this product. This product contains ingredients derived from Anchovy and/or Sardine and/or Pollock.