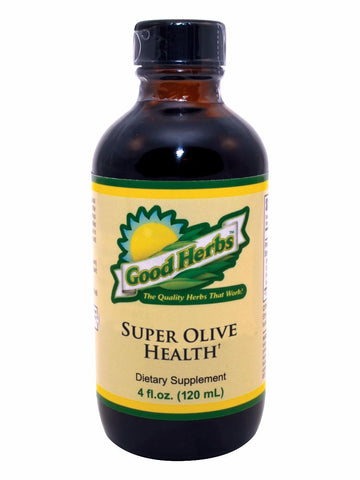 Good Herbs Super Olive Health
Good Herbs Super Olive Health supplies you with Olive Leaf Extract known as one of the most useful herbs in the herbal kingdom. Super Olive Health is made with pure, unaltered, chemical-free natural herbs.
Who's it for: Anyone looking to experience the benefits of olive leaf extract.  
What it does: May support many aspects of health including a healthy immune system, digestive system and circulatory system.  
What sets this product apart? 
Contains 500 mg of Olive Leaf Extract to support a healthy immune, digestive, circulatory and urinary system. 
Wild-crafted or organically grown herbs. 
Produced without heat or electrical machinery to maintain whole herbs without adulteration.  
Main Ingredient/Benefit  
| | |
| --- | --- |
| Ingredient   | Benefit   |
| Olive leaf extract  | Olive leaves contain a nutrient known as oleuropein which may provide anti-inflammatory and antioxidant properties.1   |
Ingredients: Olive leaf extract, purified water and ethyl alcohol. Percent alcohol: 40% Ratio of herbs to solvent (grams herbs/mL solvent): 4:1.  
Suggested Use: Take 2mML (approx. ½ teaspoon) two times per day. May be added dto a small amout of purified water.  
Storage: Store in a dry place between 59-86° F (15-30° C).  
Warning: Do not take if you are pregnant, nursing, or taking medications unless directed by a health care professional. Not for prolonged use. Do not exceed recommended dose. KEEP OUT OF THE REACH OF CHILDREN.
---
We Also Recommend