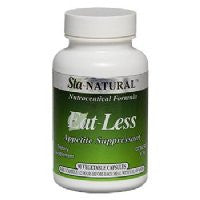 Eat-Less 90 Vegetable Capsules
Eat-Less Helps suppress appetite, which aids in weight loss. Removes toxins and parasites from one's system, which helps one's complexion (acne), blood pressure, blood sugar levels, and cholesterol. An essential weapon in your arsenal of products for proper cleansing.
Suppress your appetite naturally without common side effects such as dizziness or nervousness. Eat-Less also aids in proper elimination. Health professionals agree that proper elimination is essential for good health.
Ingredients: Chromium, (Chromium Polynicotinate, ChromeMate,), Magnesium (Magnesium Oxide), Proprietary Blend [Garcinia Cambogia 60% HCA (Super Citrimax,), Psyllium Husk, Guar Gum, Hibiscus Flower, Cascara Sagrada, Citrus Pectin, Licorice Root, Papaya Fruit, Black Walnut Bark, Burdock Root, Red Raspberry Leaves, Oat Bran, Glucomannan], Cellulose, Silica, Magnesium Stearate.
---
We Also Recommend