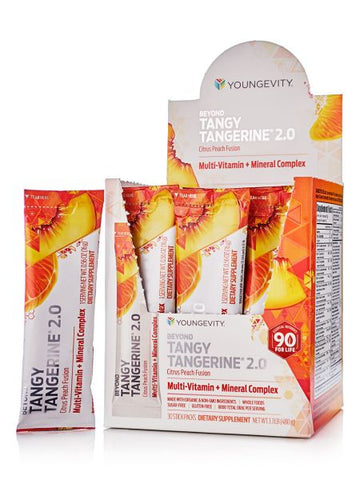 BTT 2.0 Citrus Peach Fusion - 30 Count Box
With over 8000 ORAC, certified organic ingredients, and synergizing cofactors to maximize vitamin and mineral uptake, Beyond Tangy Tangerine 2.0 is the most advanced multi-vitamin mineral complex on the market. Beyond Tangy Tangerine 2.0 provides you with: energy boosting nutrients, PuriGenic antioxidant support, PrePro prebiotic and probiotic blend, over 500(#)mg of natural amino acids and increased potencies of most vitamins and minerals for optimal wellness. *
---
WARNING: If you are pregnant, nursing or taking medications, consult your healthcare professional before using this product.
KEEP OUT OF REACH OF CHILDREN.
For dietary supplement use only.
Ingredients:
t Branched and Linear Chained Cellular Energy Concentrates (organic brown rice solids, citric acid, organic rice bran), natural flavor and color, organic stevia, acacia gum.
---
We Also Recommend