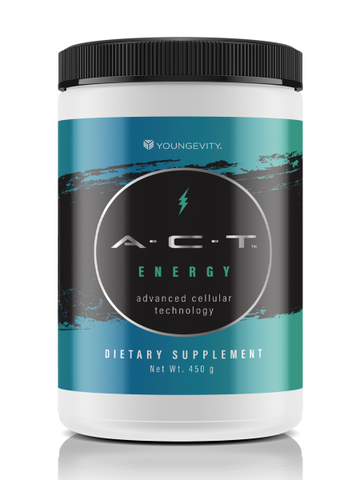 A.C.T. Canister 450 g
A.C.T. Canister Supplement Facts
Youngevity now offers Advanced Cellular Therapy (A.C.T.) in ACTCanister Original by Vitalagy

DrinkACT in ACTCANISTER Original with net weight of 450 grams of high power energy.

Experience for yourself what consumers around the world are calling the " Feel Good" drink!

No longer do you need to experience the "crash" associated with energy drinks that have been spiked with sugar and caffeine.

Advanced Cellular Therapy (A.C.T) ACT Energy drinks balance a proprietary combination of highly-effective, all natural ingredients that work together on the cellular level. The result, a powerful mental and physical boost that you will start to feel working in just minutes and that will last for hours. Get a healthy energy boost to make it through the events of a busy day or pull an all-nighter!

A.C.T. Energy balances highly-effective, all-natural ingredients that all work together on the cellular level. The resulting formulation creates a large, healthy, mental and physical boost that starts working in minutes, and lasts for hours!

Boosts Energy Promotes Healthy Cholesterol Levels * Promotes Healthy Blood Sugar Levels * Promotes a Healthy Cardiovascular System * Promotes a Healthy Immune System *


---
FAQ
A.C.T. works in minutes and lasts for hours. What's the secret?
A.C.T. is a culmination of nine months of research and development in our laboratory. We went through 80 different production trials before finalizing the formula. The "secret" is the delicate balance of extraordinarily effective ingredients that work synergistically together on a cellular level, creating a mental and physical energizing effect.
What is the difference between A.C.T. and the other Energy Drinks on the market?
First of all, our philosophy is different. Most energy drinks on the market today create a response by mega-dosing the system with high levels of unhealthy ingredients such as sugar and caffeine anhydrous. By attacking the central nervous system in such a manner, you will get a superficial, temporary surge of energy. Problem is, it only lasts for a little while with the unhealthy jolt-and-crash cycle being hard on the body.
A.C.T. works on a completely different level as it has been designed to target metabolic pathways to create optimal balance and performance at the cellular level. As a result, the effect of the product can be felt for hours at a time. The goal with A.C.T. was to create the "World's First Healthy Energy Drink" to work with the body and not "against" it to get a superior result. We have accomplished that.
What is EGCG and why all the excitement about this ingredient?
EGCG (Epigallocatchin gallate) in Green Tea has been shown to help stimulate certain neurotransmitters that signal the body to increase energy expenditure. In addition, EGCG is one of nature's most powerful antioxidants as it has been shown to be 100 times more powerful at mopping up free radicals that cause cell damage than vitamin C and 25 times stronger than vitamin E. As such, EGCG is so popular that millions of dollars are being spent around the world to further research the benefits of this amazing antioxidant.
A.C.T. uses a Green Tea that is specifically standardized for EGCG content. This unique processing method makes the Green Tea 'de-caffeinated'. The benefits of Green Tea in A.C.T. are directly linked to the EGCG. We consider A.C.T. to truly be the "World's First Healthy Energy Drink".
Can diabetics take A.C.T.?
All diabetics should first consult their primary care physician before taking A.C.T., or any dietary supplement. A.C.T. contains 22 calories and 4 grams of sugar. All diabetics should review the contents of A.C.T. just like they review other foods they eat or supplements they take.
Isn't Guarana a form of caffeine?
Guarana contains many healthful substances, including a natural stimulatory ingredient known as Guaranine. Guaranine is not caffeine anhydrous. In fact, it is molecularly similar to the Theobromine in chocolate. Chocolate is known as the 'feel good' candy and A.C.T. is known as the 'feel good' energy drink. We believe that Guaranine is a healthier alternative to caffeine anhydrous and is one of the many reasons why A.C.T. works.
Can my children take A.C.T.?
A.C.T. is designed as a natural energy drink. One packet (15 grams) is recommended for an average adult male. You may wish to reduce the amount consumed according to body weight and age. Youth 12 - 18 may take A.C.T. at a limited serving size based on age and weight.
Can I mix A.C.T. with other beverages besides water?
Absolutely! The flexibility of the product is one of the appealing aspects.
California Proposition 65 Warning
Youngevity recently added a standard language disclosure required by the State of California. CA, under Prop. 65, requires products that may have substances that are known to cause cancer and/or birth defects be labeled with a warning. While Youngevity continually tests our products for any traces of any harmful substances, and Youngevity has always stayed well below the Federal Government's (the FDA's) limits in these areas, very small levels naturally occur in life. Therefore, Youngevity will continue to be diligent in producing, testing and marketing the safest products. We completely support our products and the good that they do for our bodies. And, yes, we will comply with the same disclosure requirement that almost all companies in CA have to deal with. For example, in CA this warning is displayed EVERYWHERE every restaurant, every grocery store in the produce section, every market and water vending machine carries the warning - just to name a few places!
---
We Also Recommend