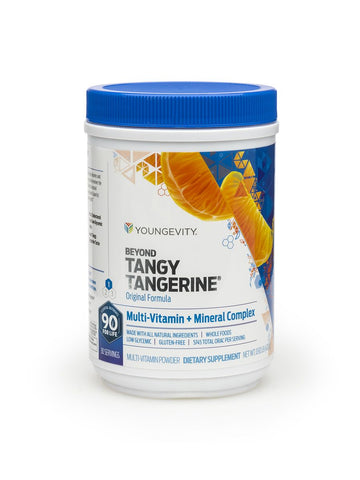 Beyond Tangy Tangerine - Original - 420 G Canister
Beyond Tangy Tangerine Supplement Facts
Beyond Tangy Tangerine contains a base of Majestic Earth Plant Derived Minerals blended with vitamins, amino acids, and other beneficial nutrients.  Beyond Tangy Tangerine is all-natural and contains no starch, wheat, yeast, artificial sweeteners or preservatives. Glycemic-friendly.
Being a Natural Living Product the consistency, color and taste may vary with each container. 
BENEFITS:
* Packed with 115 Fruits and Vegetables
* Great Tangy Tangerine Taste
* Rich and Healthy Whole Food Goodness
* Supports a Healthy Immune System
* Supports Cardiovascular Health
* Supports a Healthy Digestive System
* Natural Antioxidant
* Supports Optimal Health
* No Artificial Sweeteners or Preservatives
* Low Glycemic Index / Glycemic Friendly
* Promotes Healthy Blood Sugar Levels
* Incredible ORAC Value of 5745 (Beyond Tangy Tangerine Peach 2.0 contains 8,000 ORAC)
SUGGESTED USE: Adults, mix two scoops in water or juice per 100 pounds of body weight, 1 to 2 times daily.
Children, 1/4 scoop daily per 20 pounds of body weight. Not to exceed one scoop.
---
We Also Recommend