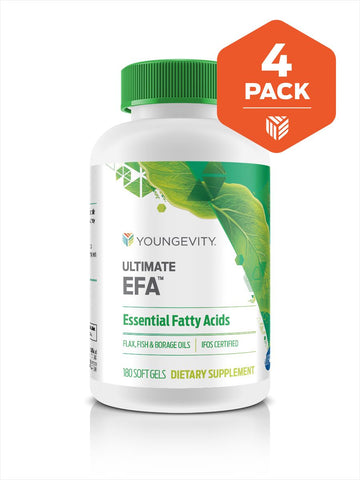 Ultimate EFA - 180 Softgels - 4 Pack
Ultimate EFA Supplement Facts
Ultimate EFA is 100% organic and features a proprietary blend of essential fatty acids derived organically grown flax seed oil, herbicide- and pesticide-free borage oil, and fish oil. Delivering a healthy balance of Omega 3, 6, and 9s, Ultimate EFA is a must-have for people who want to derive the benefits of a full range of essential fatty acids--organically.
For best results, use Ultimate EFA as part of a full nutritional program that includes:
DIRECTIONS: Take 1 soft-gel three times a day or as directed by your healthcare professional.
WARNING: If you are pregnant or nursing consult with your healthcare professional before taking this product.
KEEP OUT OF THE REACH OF CHILDREN.
---
We Also Recommend