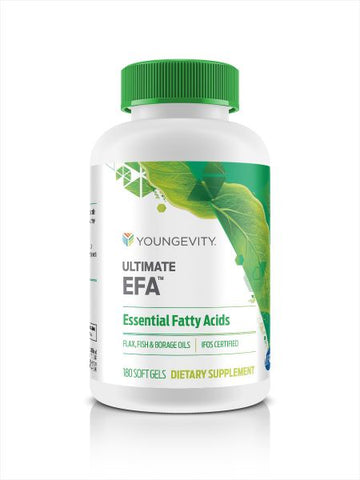 Ultimate EFA - 180 Softgels
Ultimate EFA Supplement Facts
Just as the name implies Essential Fatty Acid (EFA) are essential for maintaining good health. The health benefits are huge!
A vegetarian friendly product and 100% organic. A proprietary blend of essential fatty acid from borage, flax and fish oils. Used as part of a healthy diet, essential fatty acids may support the body in many ways, especially coronary function.*
The leading cause of death in the United States is reported to be...Cardiovascular disease. 765,000 people died of Heart Disease and 190,000 died from stroke and other vascular complications inn 1991. About 30 million Americans suffer from heart or blood vessel disease and as many as 27 million from High Blood Pressure. 25% of the people who have a heart attack die within three hours of the first symptoms. Many people experience sudden unexpected death and never reach a hospital. These statistics show why prevention is so important.
EFAs have been shown to support healthy coronary function. With today's less than adequate eating habits getting enough essential fatty acids is more important than ever. Consumption of Omega-3 fatty acids may reduce the risk of Coronary Heart Disease. FDA evaluated the data and determined that, although there is scientific evidence supporting the claim, the evidence is not conclusive.
DIRECTIONS: Take 1 capsule three times a day or as directed by your healthcare professional.
For best results, use Ultimate EFA as part of a full nutritional program that includes:
WARNING: If you are pregnant, nursing or taking medications, consult your healthcare professional before using this product. This product contains ingredients derived from Anchovy and/or Sardine and/or Pollock; and, may contain sunflower, canola or soybean oil. KEEP OUT OF THE REACH OF CHILDREN.
---
We Also Recommend