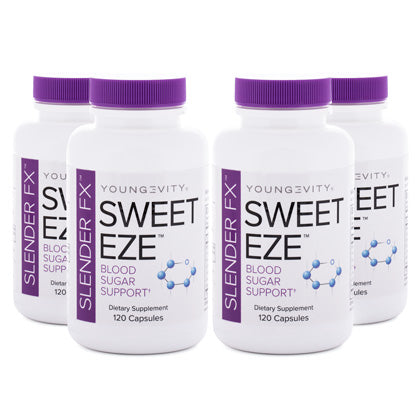 Slender FX Sweet Eze - 120 Capsules - 4 Pack
Who's it for: Anyone looking for nutritional support to help manage healthy blood sugar.
What it does: May help support the regulation of blood sugar levels with a blend of nutrient-rich botanicals.
What sets this product apart?
Naturally supports healthy blood sugar levels 
Supports a healthy metabolism 
Includes chromium & vanadium 
Time-tested botanicals
Main Ingredient/Benefit
| | |
| --- | --- |
| Ingredient | Benefit |
| Chromium | Studies have found that chromium may be effective in lowering blood sugar and insulin while improving the body's response to insulin.[1] |
| Vanadium | Some studies have found that vanadium may help lower blood sugar levels and improve sensitivity to insulin in people with type 2 diabetes. [2] |
| Cinnamon | May help support healthy blood sugar levels. [3] |
---
[1] Pei D;Hsieh CH;Hung YJ;Li JC;Lee CH;Kuo SW;. (n.d.). The influence of chromium chloride-containing milk to glycemic control of patients with type 2 diabetes mellitus: A randomized, double-blind, placebo-controlled trial. Retrieved January 27, 2021, from https://pubmed.ncbi.nlm.nih.gov/16784965/
Ingredients: Chromium, Cinnamon Bark, L-Aspartic Acid, Ginseng Root, Gymnema Leaf Extract, Bitter Melon Fruit Extract, Jambolan Fruit Extract, Vanadium, Gelatin capsule and brown rice flour.
Suggested use: Take 1 capsule with each meal, or as directed by your healthcare professional.
Warnings: If you are pregnant, nursing or taking medications, consult your healthcare professional before using this product. KEEP OUT OF THE REACH OF CHILDREN.
---
We Also Recommend