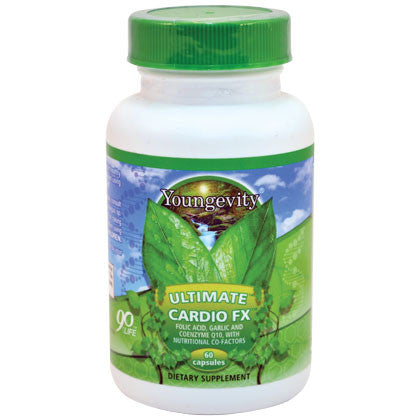 Ultimate Cardio FX - 60 Capsules
Supplement Facts
Ultimate Cardio FX is specially formulated to promote optimal cardiovascular function. Featuring garlic, ginkgo, hawthorn berry, Co-enzyme Q-10, and more, Ultimate Cardio FX is an excellent choice for people with active lifestyles or who may be concerned about cardiovascular health.
For best results, use Ultimate Cardio-FX as part of a full nutritional program that includes:
DIRECTIONS: Take 2 capsules daily or as directed by your healthcare professional.
WARNING: If you are taking MAO inhibitors or digitalis, consult your physician before using products containing Crataegus laevigata and Gingko Biloba. If you are pregnant, nursing or taking medications, seek the advice of your healthcare professional. KEEP OUT OF THE REACH OF CHILDREN
---
We Also Recommend