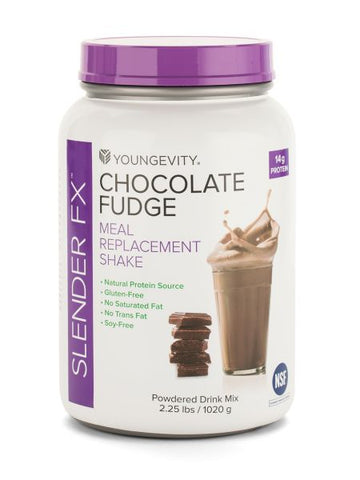 Slender Fx, Meal Replacement Shake - Chocolate Fudge
The revamped Chocolate Fudge Slender Fx, Meal Replacement Shake is Soy-Free and Gluten-Free!
With a delicious, creamy fudge flavor and 125 calories per serving, it delivers a wide spectrum of vitamins minerals and other nutrients to support sustained levels of physical mental and emotional energy throughout the day. Combine with the fruit and liquid of your choice for a delicious full-flavored thick milkshake-style drink.
For best results include
Slender FX, Cleanse FX,
SUGGESTED USE: Mix 1 scoop of Slender FX, Meal Replacement Shake per 1 cup of water, skim milk or juice and blend until smooth and creamy.
---
We Also Recommend